We Promise You Aren't Seeing Double
Aerobotix, Inc. (Madison, AL) recently teamed with AC&E, Shape Fidelity, and FANUC to create a robotic painting system with the ability to "see" parts. With the help of a camera, the system identifies the shape and location of all parts in the paint booth and automatically generates a paint path program to apply precise coats with delicate thickness requirements. Two robots work in coordination to paint both the front and the back of each part; this keeps operators from having to rotate the cart holding the parts in this tiny booth.  This setup is proof that robotic cells do not require much space and even the smallest of paint booths can be utilized for automation.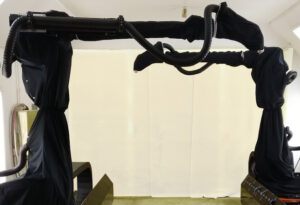 In addition to being one cool little system, these bots are also some of Aerobotix's best dressed featuring black "pajamas" rather than white.