Aerobotix to Deliver 8th Robotic Paint System to Coat Full-Up Aircraft
Aerobotix, Inc. (ABX)—located in Madison, Alabama—has recently secured a contract to design a system, assemble the hardware, generate path programs, and validate their 8th fully automated robotic painting solution for a fully assembled aircraft (Full-up Aircraft). ABX is a small business providing turn-key robotic systems for painting, sanding, Mold-In-Place, and inspection of defense-orientated aerospace applications. Programs of this variety include fighters, bombers, UAVs, missiles, and other Department of Defense endeavors.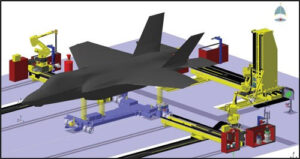 Figure 1: Full-up aircraft robotic paint system
The 8th full-up aircraft robotic paint system (Figure 1) will be comprised of FANUC robots, integrated by ABX. These robots will be moved around the full-up aircraft via precision rails often configured in a large X- and Y-table. When more vertical reach is necessary, a Z-lift elevator will be added to lift the robot up to the required work area. ABX equips each robot with precision fluid handling equipment to accurately apply performance coatings to all areas of the aircraft's outer mold line.
Once the full-up aircraft's coatings have been applied, each robot can change tools and execute force-controlled robotic sanding operations. These sanding procedures are used to scuff sand the coatings between the various layers, in order to achieve the required mechanical bond. When the survivability coating and sanding processes are complete, the robots can be outfitted with non-contact coating thickness sensors to examine and verify the coating thickness requirements have been satisfied.
For more information and to start creating a custom robotic painting system, please contact Aerobotix, Inc. at info@aerobotix.net.