The Benefits of Having 3D Metrology for the Digital Twin & Digital Thread Process
By Josh Foran, Metrology Manager
It is evident that the engineering and manufacturing industry is advancing rapidly thanks to the adaptation of digital technology. These industries have found advantages from cost savings and production increases to training and safety improvements using digital twin and digital thread processes.
So how does Aerobotix's metrology and automation integration fit in digital engineering capabilities? We're glad you asked! Let's start with the basics: What is Digital Twin? What is Digital Thread? What is Metrology?
What is Digital Twin?
Digital Twin is a digital representation of a product, person, place, or process that can simultaneously understand and predict its physical clone.
What is Digital Thread?
In a nutshell, digital thread consists of the virtual assembly and data gathered along the digital process, from its initial process to the completion phase. When collected, the information can be used to avoid problems, reduce issues, teach users, and even enhance products through digital agile development. 
What is Metrology?
The literary definition, according to Merriam-Webster, notes metrology is the science of weights and measures of measurement. For our reader's sake, we'll explain it this way: everything from tensile strength to any form of measurement is metrology (i.e., measuring light, hardness, dimensions from point A to B).
How Can We Help?
Aerobotix specializes in 3D metrology. The benefit to 3D metrology is, by taking 3D scans of an object, you end up with a 3D digital replica of the object you are scanning. With this digital model, you can inspect deformation, part accuracy, as well as identify part defects. Using the data collected in the 3D scanning process, you can create as built exact surface models of the part that can then be used for computational fluid dynamics (CFD) to have an exact representation of the actual component, such as an aircraft. Another useful aspect of this 3D scanning process is reverse engineering. The scan data taken can also be used to create design intent models of part older parts that may not have a CAD model.
The Benefits:
When we use structured light scanning, what we physically scan is what you digitally get. You know what the product is!
You can make design and tooling changes based on the digital 3D representation, which is based off the actual component rather than an idealized perfect CAD model.
Using 3D metrology throughout the manufacturing process guarantees part accuracy and results in an actual product that is much closer to the intended CAD design. Having that record helps with root cause analysis (one of the major drivers of 3D scanning). It provides the information needed to make educated decisions on the overall design.
3D Metrology can help dial in complex metal forming processes by understanding how the metal moves at each stage.
3D Metrology can be used for things like first article inspection and tooling buy off.
We can confirm if the part or tooling has met design requirements.
We can also identify areas that do not meet design requirements that, in turn, could present an issue in the final product.
We can check for things like interferences through digital assembly.

In digital assembly, we start with a completed part and work backwards. Digital assembly allows us to break it down, scan each individual component, and find out how it interfaces with its neighboring part.

We can check parts and verify actual conditions.
3D Metrology can aid additive manufacturing and process verification.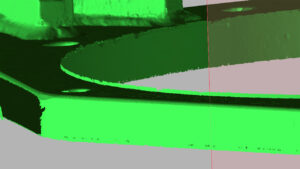 A digital representation of a bad scan preformed for a customer from another scanning, or metrology, company. 1/2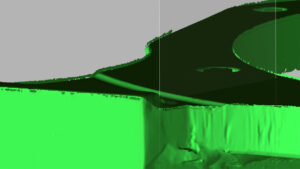 A digital representation of a bad scan preformed for a customer from another scanning, or metrology, company. 2/2
For metrology services, fill out the form below:
3D Metrology, 3D representation, 3D scanning, CAD model, computational fluid dynamics, deformations, digital assembly, digital process, digital technology, digital thread, digital twin, inspection, metrology, part accuracy, scan services, structured light scanning