Aerobotix Introduces Automated Hypersonic Missile Production Line
Aerobotix, an AS9100 certified FANUC robotics integrator and metrology company, is currently operational with the next generation hypersonic production line. A robotic assembly line scans, sands, paints, and measures complex missile components achieving critical tolerances required for hypersonic flight. This process will allow for consistent application of MINTEQ's FIREX RX-2390 ablative coating to shield the missile structure from the extreme temperatures of hypersonic flight.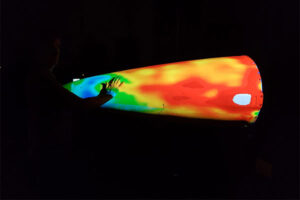 Due to the hypersonic nature of the missile, both thermal protection and aerodynamic consistency are paramount. The process starts with an automated Shape Fidelity Scanner which records each component's as-built dimensions. This data is then used to generate a custom path to scuff sand each component for optimal coating adhesion. An explosion-proof paint robot then applies dozens of layers of MINTEQ's FIREX RX-2390 ablative coating. To make sure the coating falls within tolerance, the robot then utilizes a non-contact measuring tool to record the wet coating thickness.